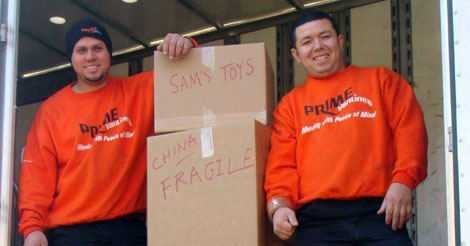 Testimonials
Great things are being said about Prime Van Lines and we want to share a few of the positive comments we have received from our satisfied customers. We would love to hear from you too. If you want to share your comments, please email us.
We just wanted to send you a quick note to say thank you for our recent relocation to Gilbert, AZ. Every care was taken with our belongings. The guys were very well mannered and we were very pleased with the overall moving service.
Frances James
Hicksville, NY to Gilbert, AZ
I don't usually send out emails for feedback but I wanted you to know how happy I was with your services. You really helped me with what could have been a very stressful and trying experience. Much appreciation to Rene, David, and the countless others who were involved with my move to Chicago this month.
Sincerely,
Ephraim Tal
Thank you for your assistance in helping us with the move. I would not hesitate to use your company's services if ever needed again or recommend you to new potential customers.
Janet Hull
Stamford, CT to Raleigh, NC
Dear Ms. Bendavid

Subject: Relocation Reference

On behalf of my company, I write to thank you and your colleagues at Prime Van Lines for the excellent service provided with regards to the handling of our recent office relocation for Star Media.

All matters were handled by your company in a thoroughly professional manner, from the pre planning, to the tagging of files and furniture, disassembly of cubicle furnitures to the delivery, reassembly, and set up, and disposal of empty boxes at the new office and all other matters related to our relocation. All of your staff involved were courteous, knowledgeable and excellent in all ways. I would particularly like to single out the hardworking and skilled moving crews. Even though they had to tackle steep stairs at the origin , nothing was too much trouble and nothing was damaged.

Prime Van Lines definitely delivered and I have no hesitation in recommending you to future clients with confidence.

Once again, many thanks.
Regards,
John Marshall
Purchasing & Logistics Manager
Star Media
We recently used Prime Van Lines for a local move from Rye, NY to Douglaston, NY. We want to say a few nice words about our experience with Simon and the crew. They did a fantastic job above and beyond what we had expected. Please send our gratitude and best wishes to your men. You should be proud as they represent your company very well!
Mr. & Mrs. J. Allen
Of Douglaston, NY
Prime Van Lines has been a pleasure to deal with. Hopefully, we don't have to move soon but if we do, we will look forward to you moving us again.
Andrea Schaeffer
Washington, D.C.
Dear Gil,

I am writing to thank you and your company for the wonderful moving service. My past experiences with moving companies have not been pleasant and honestly, I was quite nervous to use another moving company.

However, early on I knew I made the right choice. You were very helpful, understanding and patient with our moving circumstances. We are grateful to you and your colleagues for a job well done. This move went so smoothly and was such a positive experience. Please let me know if you need me to recommend your services to anyone.
Kind regards,
MaryBeth Lesnewski
Portland, OR
Friendly, and courteous moving guys. All care and skill was taken with our belongings.
S. Patel
I'm going to put my Prime Van Lines magnet on the fridge at work so everyone can see it.! You guys were great and I'll be happy to recommend you.
Nguyen N. Thach
Custom Hair and Nails
Charleston, S.C.
Highly satisfied. Appreciate all the confirmations and movers showing up on time and ready to work. You don't see that too much these days!
Maya Mizrahi
Just a short note to thank you for the movers that came to my home. The movers were pleasant and wrapped our furniture well and nothing was broken.
Georgina Phillips
This was our first major move, and quite stressful since we had to place our trust with a moving company to pick up and keep "our life" for the next three months. Well, your company did an excellent job and we want to pass on all our thanks for taking such great care of our property and making the process of moving as easy as possible. You are true professionals. We were especially impressed with the friendly service and your prompt calls back.
Kanye M. Price
New York, NY
Great price….fast loading….no issues/damages….Couldn't ask for better!
Miguel Aguilar
Phoenix, AZ
The guys worked a long shift without any complaints. They worked hard, were polite and left no trace of their packing materials when they left. They even worked under my estimated time. I want to say thank you for everything.
Otto Kuiper
South Bend, IN
I would like to congratulate your company for the excellent way everyone handled our relocation to Chadwick Road. You and the movers were great to deal with. This was the best experience that I've had dealing with a moving company and would highly recommend you and your company to anyone requiring your services. Now I have to start unpacking.
J. Ramirez-Mills
Teaneck, AZ